Natural resources management
Biodiversity Conservation
Marine Resources Management
The exploitation of natural resources and of the underlying issue of widespread poverty in rural areas constitute two major challenges in the Comoros. Dahari is committed to implement conservation management actions together with local communities within watershed and key biodiversity areas. The aim of these efforts is to reduce the pressure on natural resources through the introduction of sustainable practices and viable economic incentive mechanisms that improve the living conditions of farmers. Dahari further engages in outreach activities aimed at raising community awareness of the benefits that come with the management of natural resources and highlighting individual and collective responsibilities.
Dahari's reforestation program covers the Moya area around five villages: Outsa, Adda, Lingoni, Ouzini and Ngandzale. Since 2017 the program has also been working in the village of Jimilimé collaborating with the organisation Initiative Développement. Its objective is to reforest sub-watershed areas with the aim of protecting water sources, rivers, and key forest habitats for biodiversity conservation, while addressing erosion and soil degradation.
The project is structured around four main activities:
Establishing (community or private) tree nurseries;
Participatory selection of tree species that meet the needs of farmers in the areas by working with existing agricultural groups;
Training in agricultural and agroforestry techniques as well as tree care and propagation;
Distribution, and planting, of trees together with local with farmers.
The program engages in different types of reforestation to respond to the local problems identified: such as hedging, rehabilitation of degraded areas, combating erosion, and combining crops and trees in agroforestr systems.
Dahari plants and monitors a total of 50,000 trees per year. All project participants, regardless of their roles, are considered stakeholders, responsible for definingguidelines and decision-making. They receive regular support tailored to their training and supervision needs: Dahari may help with selection of seeds for planting, the monitoring of juvenile trees in the field, and reinforcements of governance structures within groups or committees.
Dahari's approach at watershed areas aims to integrate agricultural practices and forest management to protect the Moya forest and secure access to water for the local population. In support of this objective, Dahari facilitated the creation of watershed committees, local initiative responsible for managing action in watershed areas. Dahari helps disseminate agroforestry techniques adapted to the island of Anjouan, and committee members are trained in tree-planting and reforestation techiniques.
With this integrated landscape approach, Dahari is promoting the restoration of natural forest. This is further communicated on a national level to authorities and other key stakeholders.
Our achievements since 2017
Eight tree nurseries for the propagation of forest, fruiting and fast-growing plants have been established in four communes around the Moya forest
37 farmers have been trained to be tree nursery technician for fruiting, forest and fast-growing tree species
Five water management committees have been set up and are managing reforestation activities
450 hectares of sub-watershed areas are being restored through reforestation and hedging activities in the Moya forest
Over 65,000 trees have been planted in the Moya forest and in Jimilimé
More than 80,000 fast-growing sandragon and gliricidia cuttings have been planted for soil protection and restoration
Over 1,700 farmers have planted trees on their plots
A first agroforestry technical guide for tree selection and management in the Comoros has been produced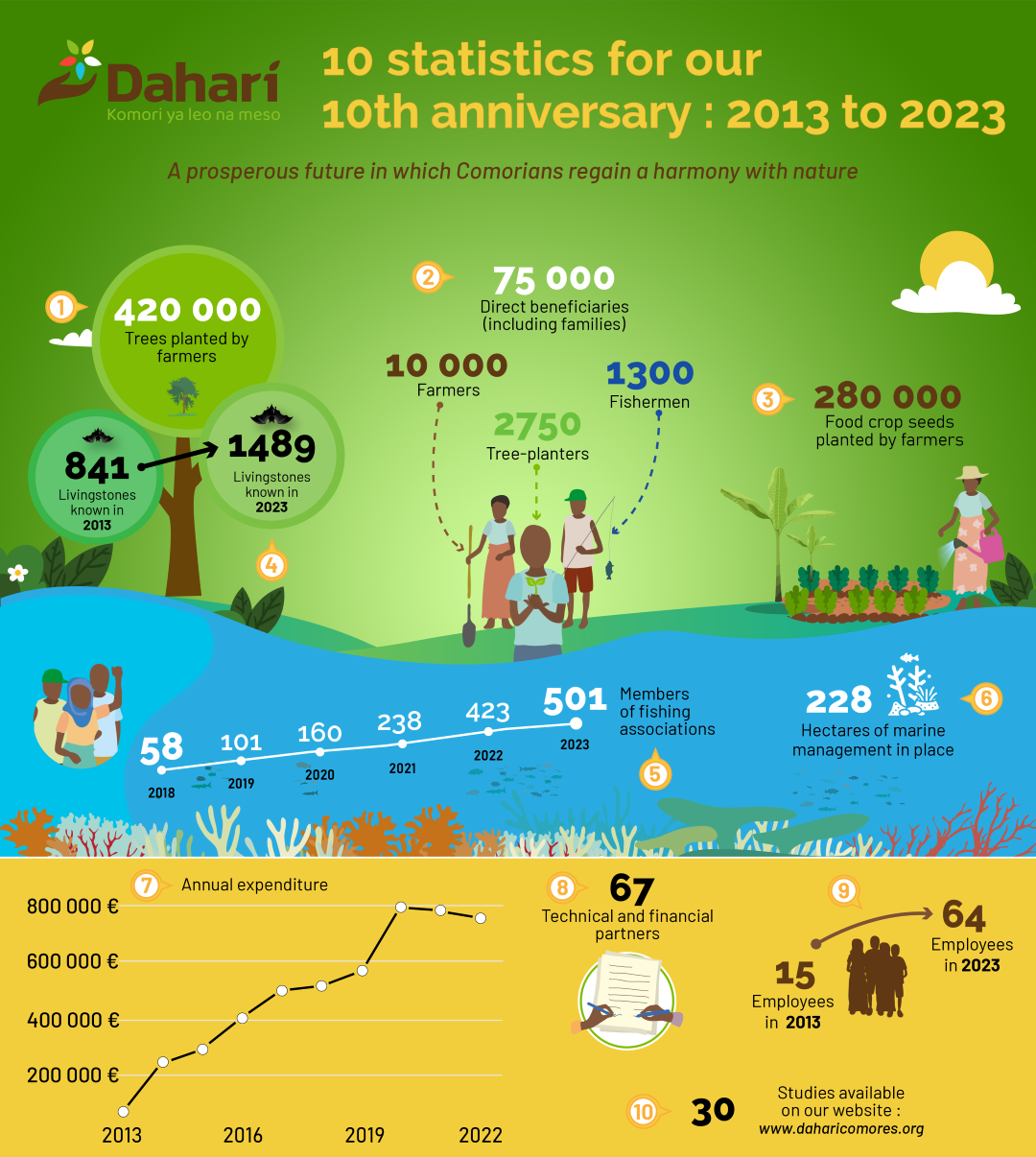 We are celebrating our 10th anniversary in 2023! A decade of commitment to the rural population and biodiversity …