Natural resources management
Biodiversity Conservation
Marine Resources Management
The Comoros sit at the centre of the Northern Mozambique Channel,  the second richest marine biodiversity area in the world after the Coral Triangle in the southwest Pacific. Coastal communities depend on this abundance of marine resources for their food security while it is now facing several threats: climate change, overfishing and reef degradation amongst others, caused by multiple factors such as pollution and destructive fishing techniques. Created in 2015 with the support of  our partner Blue Ventures, the Marine Resources Management sector  of Dahari developed a participatory approach to implement community-based marine management measures along the south-western coast of Anjouan.
The MRM component of Dahari focuses on four main areas:
Supporting and building the capacity of local fishers' associations (both women and men) for an effective implementation of sustainable marine management measures
Development of alternative livelihoods to fishing in collaboration with Dahari's agricultural sector and income diversification through activities adding value to fisheries products, e.g. transformation techniques such as drying.
A research component including participatory fisheries monitoring, ecological reef monitoring and socio-economic studies.
Continuous awareness-raising and community mobilization to strengthen understanding and engagement for marine conservation, through regular interactive presentations, films and short theater plays, as well as public presentations of monitoring results to initiate community discussion on possible management strategies.
All activities operate in synergy to support communities in the implementation of short-term management measures such as octopus fishery temporary closures,  which increase octopus catches significantly over a few months only. Fishers can therefore enjoy rapid benefits from short-term marine management, increasing their interest in marine management and engaging them towards longer-term management measures, such as permanent no-take zones, that preserve marine resources effectively in the long-term.
Four temporary fishery closures took place in 2018 and 2020 in four communities, resulting in a 100% increase inoctopus individual weight
MRM supports three local fishers' associations (Maecha Bora, Malezi Mema and Fikira Ndjema) from four communities (Vassy, Dzindri, Salamani and Imere)
Local associations' members took part in two international exchange visits (in Madagascar and in Zanzibar) as well as in six national exchange visits (three on Mohéli, one on Grande Comore and two with other associations on Anjouan)
More than 250 fishers receive support for alternative livelihoods activities, especially agriculture.
More than 700 community members took part in awareness events
More than 170 fishers (86% women) were trained in sustainable fishing techniques, association management and leadership skills, and alternative livelihoods activities
60 fishers received training on fisheries monitoring techniques;
Over 22,500 kg of fish were sampled during boat fishing monitoring and over 12,000 kg of octopuses during reef gleaning monitoring (for the 2016-2019 period)
Over 13,500 m² of reefs were monitored (90 transects) and more than 6,000 fishes counted (2017-2019 period)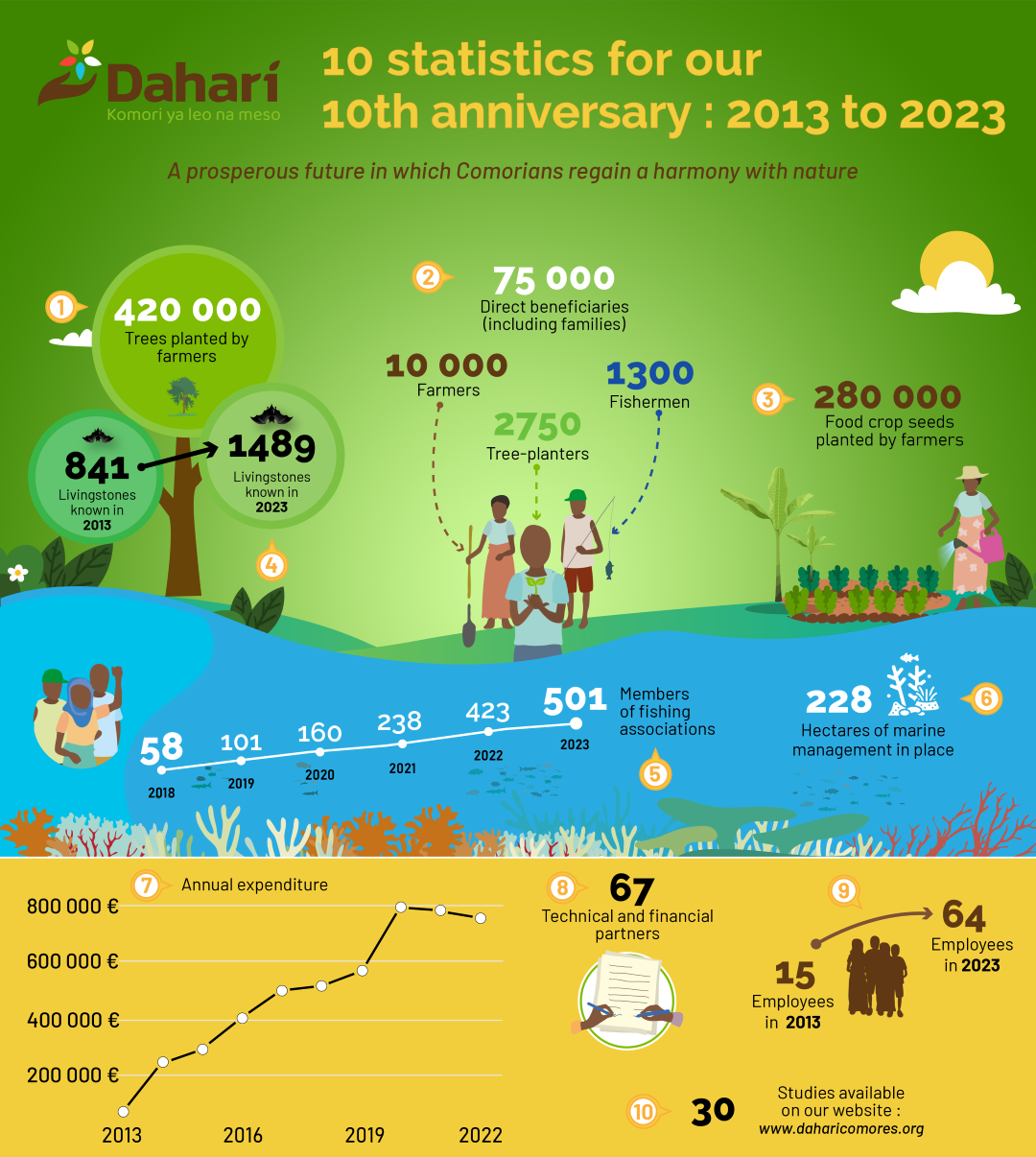 We are celebrating our 10th anniversary in 2023! A decade of commitment to the rural population and biodiversity …