Natural resources management
Biodiversity Conservation
Marine Resources Management
Within the Biodiversity Conservation component, Daharifocusses its work on protecting the threatened fauna and flora of the Comoros through research and community conservation schemes. A wide range of ecological research has been carried out since 2010 and resulted in a better understanding of priority areas for biodiversity conservation on Anjouan. . Besides studying multiple endmic species, Dahari is focusing on flagship species such as the Livingstone's fruit bat, Pteropus livingstonii, to implement targeted and participatory protection initiatives. Our results are made public and disseminated to local and international communities.
Research and biodiversity
Biodiversity research has been carried out since 2009 across the Union of the Comoros: studies focused on endemic birds, reptiles, butterflies and mammals (Livingstone fruit bats and Anjouan mongoose lemur). The objective of these studies has been to 1) identify biodiversity conservation priorities for endemic terrestrial vertebrates in the Comoros, and 2) pinpoint to central intervention areas.
Biodiversity surveys
Comprehensive surveys on the Anjouan scops owl, the Livingstone's fruit bat and the Anjouan mongoose lemur have been carried out. All three species are classified as either "Endangered" or "Critically Endangered" by the IUCN. The data collected and analyzed on the distribution and the populations of these species are vital for their protection.
GPS Tracking – In collaboration with the University of Comoros, two individual Livingstone's fruit bats were tagged with GPS trackers and their movements recorded throughout 2019. The data were used to identify important landscape features such as feeding sites, for this species.
Monitoring of the Livingstone's fruit bat population
Since 2016 Anjouan's Livingstone's fruit bat population has been monitored bi-annualy. In both the wet and the dry seasonall individuals are counted in their roosting sites with the aim ofbuilding a long-term data set on population size.
Co-management of the Livingstone's fruit bat roosting sites
In order to protect critical roost sites of this species, Dahari launched a programme based on a Payment for Ecosystem Services scheme which requires landowners to refrain from cutingt down the trees at the roost site and to restore the forests on their plots in exchange for agricultural support and training.
Participatory Biodiversity Monitoring – Members of local communities are involved in monitoring indicators for species and habitat threats in the Moya forest region. The aim of this project is to raise awareness and a sense of responsibility for sustainable local forest management.
Habitat assessment activities are done annually around co-managed roost sites. They aim to monitor the evolution of habitat at the roostsite. Further sampling was carried out in the Moya forest region, where many of Dahari's activities are implemented, to better assess the current state of vegetation cover.
25 transects for animal and plant biodiversity and habitat have been set up in Anjouan
Spatial distribution maps have been produced and population size estimated for endemic bird and butterfly species, the Anjouan scops owl, the Livingstone's fruit bat and the Anjouan mongoose lemur.
Status of endemic birds has been identified
Endemic or native forest trees threatened by extinction are identified
Landcover maps have been produced
Key areas for endemic biodiversity conservation have been identified, and mapped
Key feeding sites for Livingstone's fruit bats areas have been identified, quantified and mapped
The 14 known roosting sites in Anjouan are monitored bi-annually and an exploration study is carried out every year for new sites. The current population of Livingstone's fruit bat in Anjouan is estimated to be 686 individuals
Five co-management agreements have been signed since 2015, protecting 30% of all roosting sites in Anjouan
Two forested areas are regularly monitored by six members of the local community. The results of the surveys are presented to at village meetings within the monitoring boundaries
Four scientific articles have been published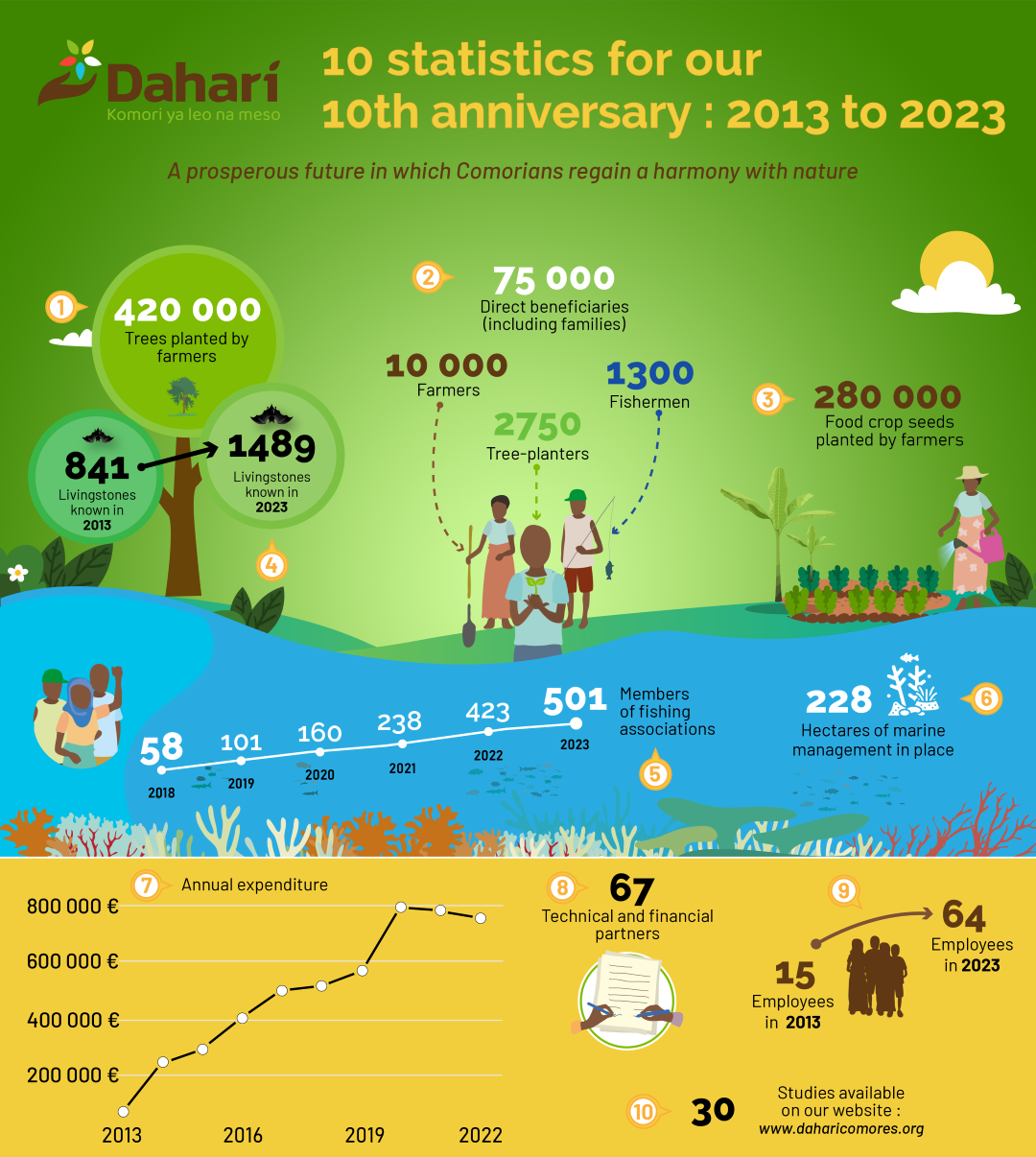 We are celebrating our 10th anniversary in 2023! A decade of commitment to the rural population and biodiversity …