Natural resources management
Biodiversity Conservation
Marine Resources Management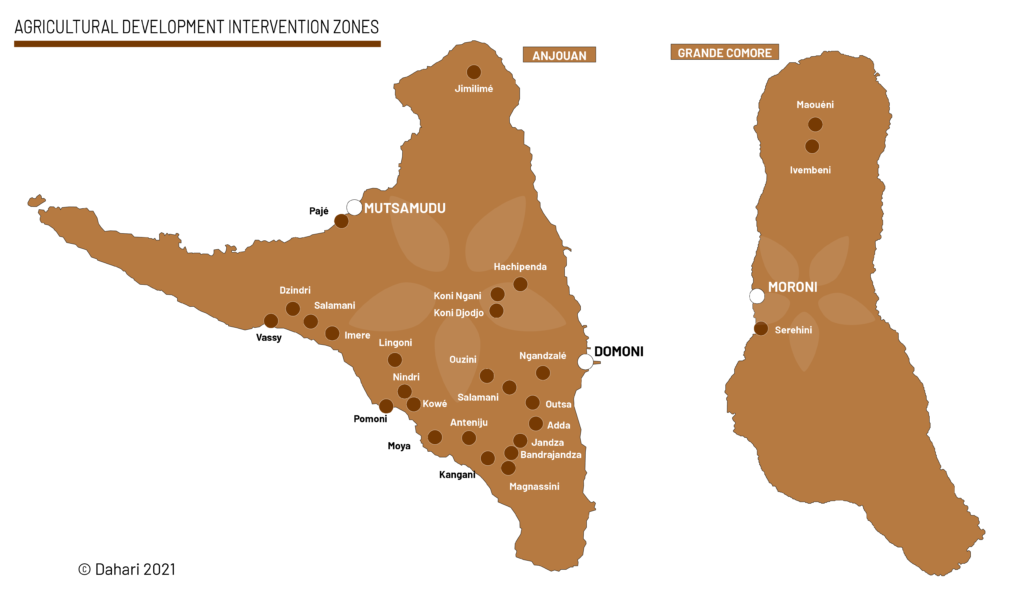 Traditional extensive cropping systems are no longer compatible with growing demographic pressure and the effects of climate change. Degraded lands lose their fertility and water is becoming more and more scarce for agricultural production. In order to intensify and increase productivity, farmers rely more and more on chemical fertilizers and pesticides. This, in particular for vegetable crops. Export crops such as ylang ylang and cloves are often cultivated in monoculture, reducing the areas left for the cultivation of basic agri-food products. Consequently, natural resources are under pressure, while agricultural yields are declining.
Dahari`s rural development sector focusses on increasing agricultural productivity as well as improving farmers` resilience. Dahari seeks to promote and develop productive and innovative agroecological technologies that act as an economic engine for the recovery of the Comorian terrestrial and marine ecosystems.
Between 2017 and 2020, the Rural Development sector implemented the following projects:
Dissemination of more productive and more environmentally friendly agroecological technologies.
Dahari was able to disseminate techniques that contribute to a better protection and restauration of agricultural lands on slopes like soil cover and composting for the integrated management of soil fertility. Methods and technologies on food crop association and rotation, rapid multiplication of high performing varieties and integrated pest control techniques were as well implemented.
Supporting the construction and the participative management of agricultural irrigation perimeters.
Promoting high value-added crops such as potatoes with the aim of diversifying the sources of income for populations in rural areas.
Inventory and ex-situ conservation of sought-after high-performance varieties (local and improved). Banana, cassava, taro, sweet potato, yam and corn were inventoried and stored in Dahari`s centers for rapid multiplication purposes.
The revival of food production in Anjouan following Cyclone Kenneth in order to restore access to food for the most affected and vulnerable populations. It focused on short-cycle crops like petsai, peanuts, maize, amberique bean, and rapid multiplication of long-cycle crops seeds, like bananas and cassava.
Promoting marketing of agroecological products on the local market which helped support producers in the sale of their harvest surplus by organizing points of sale and agricultural fairs.
4,700 farmers (including 42% women) were mobilized and trained in agroecology techniques.
Five irrigated perimeters were developed in Adda, Ouzini, Outsa and Pomoni, covering a total of approximately 24 hectares, farmed by 570 producers (including 36% women and 46% young people under 35);
More than 104 000 seeds in the form of cuttings or seedlings and 75 kg of vegetable seeds of tomato, carrot or onion were distributed to the producers;
340 seedbeds for the multiplication of banana trees and 320 demonstration plots were set up;
19 marketing events were organized by Dahari that generated more than 12,000,000 KMF (25,000 euros) for the beneficiaries;
More than 2,200 producers participated in open days, exchange visits and training at the Dahari agroecological educational centers in Pagé and the CRDE;
275 producers achieved approximately a turnover of 186,000,000 KMF (380,000 euros) from the sale of potatoes in 2019;
More than 100 staff from partner organisations such as CRDE, Maeecha, the Lycée de Coconi were trained on Dahari`s extension technologies and approaches;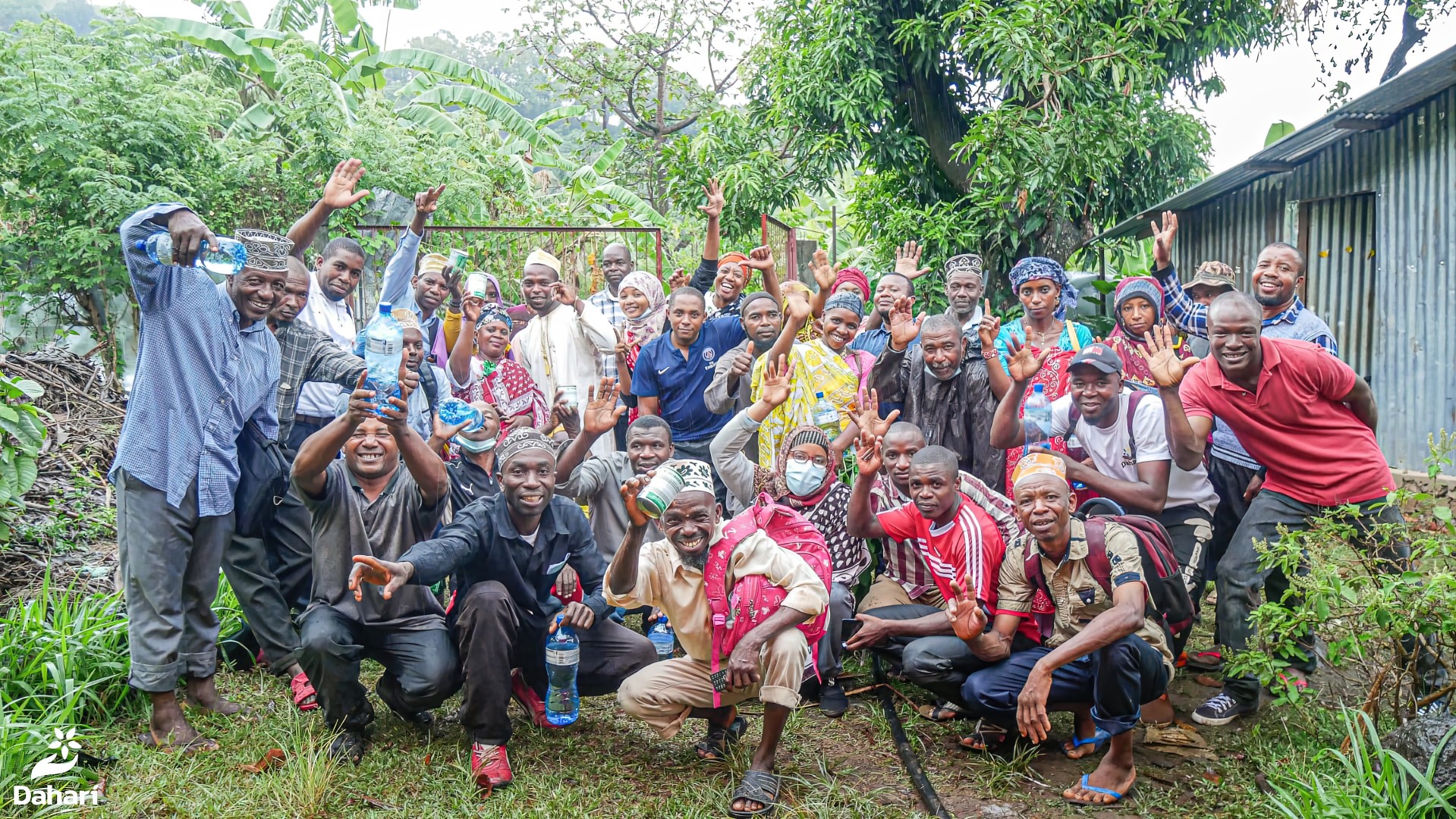 In January 2020, we signed a contract with the European Union (EU) on the " Development in the …